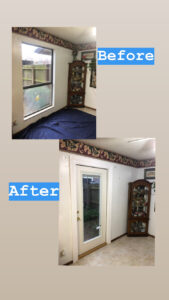 The current homeowners of this 1976 house decided they wanted an operating door where the builders had put a window. We worked with the customer's vision to accomplish this beautiful transformation.
Wherever you are as a homeowner in your desire to increase the curb appeal, design, and performance of your home, Windows by Jeff brings quality craftsmanship and superior customer service.
Our install crews are indisputably the best at what they do, and our track record over two decades of being great at window and door replacements has only improved. We need not diversify our business like others – we stay in our lane.
As to our customer service, we treat you like a close friend or family member.  Jeffry Ford started this business 20 years ago because he wanted a contractor to take care of his mother's home the way he would have. Our continued success today is due to the fact that HE was the best option.  Windows by Jeff, Inc. is Name You Trust.